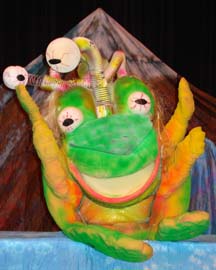 Explore the depths of our most precious natural resource. Discover what Karl, the mutant amphibian
(a frog by any other name), and Felicia, the flying fish, have in common.
Hear the water guardian's warning.
Follow the quest, understand the need and accept the challenge to protect the water.

The Ripple Effect: Making a Splash!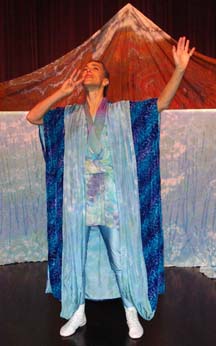 Think you have plenty of water?
No need to conserve or protect it?
Well, think again!

The importance of protecting our most precious natural resource grows daily.

The Ripple Effect dives head first into raising awareness. It's exciting and inspiring, full of amazing facts about the only element on earth that exists in three states.

It's fun, with an engaging combination of music, comedy, illusions, puppets and American Sign Language. It's edutainment at it's best, perfect for school presentations and environmental celebrations, such as Earth Day.

Make a splash in your community with The Ripple Effect!


Protect the water ~ it's the message and the simple sign language the audience learns and takes home.


Little Ripples: One drop at a time!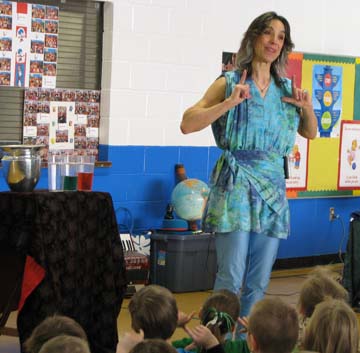 Little Ripples grew out of a challenge to relate to our youngest students. It's a combination of three New World presentations: Acting Accordionly, The Ripple Effect and BLESS Yourself®. American Sign Language, music, illusions and humor are used to raise water awareness and to instill the need to protect our most precious natural resource, water. Little Ripples is fun and informative. We are all little ripples, and we can all make a difference.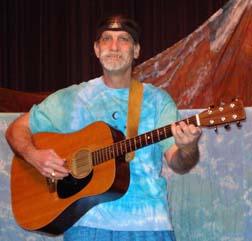 "Jill did her homework and wowed the kids at every level!" Rick Weber, Principal, Widmyer Elementary School, Berkeley Springs, WV, Pre-K - 2nd grades

"Very active and engaging. Held kids' attention. (Quite a feat for this time of year!)" Pleasant View Elementary School, Berkeley Springs, WV, second to last day of school