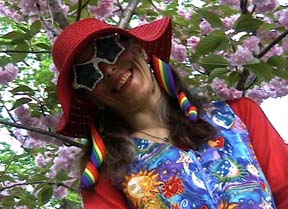 The NEW WORLD THEATER COMPANY was co-founded in 1976 by
*Jill Klein Rone.
From 1977 to the fall of 1978, NEW WORLD was the company in residence and directors of the
High School Training Program
at the
Baltimore Theatre Project
. They were instrumental in the production of the nationally acclaimed
Baltimore Neighborhood Arts Circus
, performing and conducting workshops all over the city. After Baltimore, the company toured the United States for 6 months and spent
6 months touring in Wales, England, Scotland and Germany
. During the 80s, they built a permanent workshop and home, raised and trained their new company member, Happy, and added Canada, Belgium, France, the Netherlands and Switzerland to their touring history. Jill and company continue to tour throughout the U.S.,
performing, teaching and creating
. NEW WORLD is currently celebrating 36 years of
excellent educational entertainment
!
Currently offering:

Workshops: Improvisational Acting & Group Dynamics, All About Water, including the game show, Down the Drain, and BLESS Yourself®: Breathe, laugh, energize, stretch & smile!
~ Tools for teachers, any group or class. Perfect for team building, boosting confidence and increasing self awareness, and helping to live a less stressful life.

With smiling and laughter now scientifically proven to have numerous health benefits, time spent with the New World Theater Company is time well spent! Fun is our goal. "I had fun!" is the most common comment. We're educational, too! The Ripple Effect and Little Ripples drive home the importance of protecting the water. Parrish nurses on retreat played Mystery! with us and received continuing education credits. Let us add some laughter to your life!

Founding member, Jill Klein Rone, works with Travel Berkeley Springs to produce the internationally acclaimed, award-winning Berkeley Springs International Water Tasting. She also produced Uniquely West Virginia: A Celebration of Wine and Food for 10 years. Working with the Morgan Arts Council, Jill is the arts integration and concert coordinator, and she produced a series of festivals, including the Five Rings Theater Festival, the highlight of which was turning the local water tower into a 125ft. wizard!

For more detail on events produced by and participated in by NEW WORLD, please see *Jill Klein Rone's resume. For a list of performances and residencies, see *Highlights of Engagements.

Previous productions: New World New Vaudeville, Earth Magic: Reduce, Reuse, Recycle, The Vision of Justin Illusion, Hot & Cold Running Circus, Alice: Through the Looking Glass, A Day in the Life of Justin Illusion, Space Director, and Metamorphosis.

"I have found them to be creative, resourceful, inventive and
original as well as professionally reliable. Their range of
repertoire is wide and is suitable for all sorts of situations
including outdoor festivals and events, family and children's shows
and educational performances. The murder mystery is great for corporate and other presenter's and have been some of the most entertaining evenings we have had. They are a pleasure to work with."
Read the rest of the letter here!

Carol Antman
Director
Creative Spark Center for the Arts
Mt. Pleasant, SC
"Your musicianship and professionalism on the job were second to
none. You folks could entertain any crowd in any situation. We
appreciate your co-operative attitude and up-beat spirit....we will
look forward to having you again."

Steve Aungst
Entertainment Chairman/Agent
Keystone County Festival
Altoona, PA